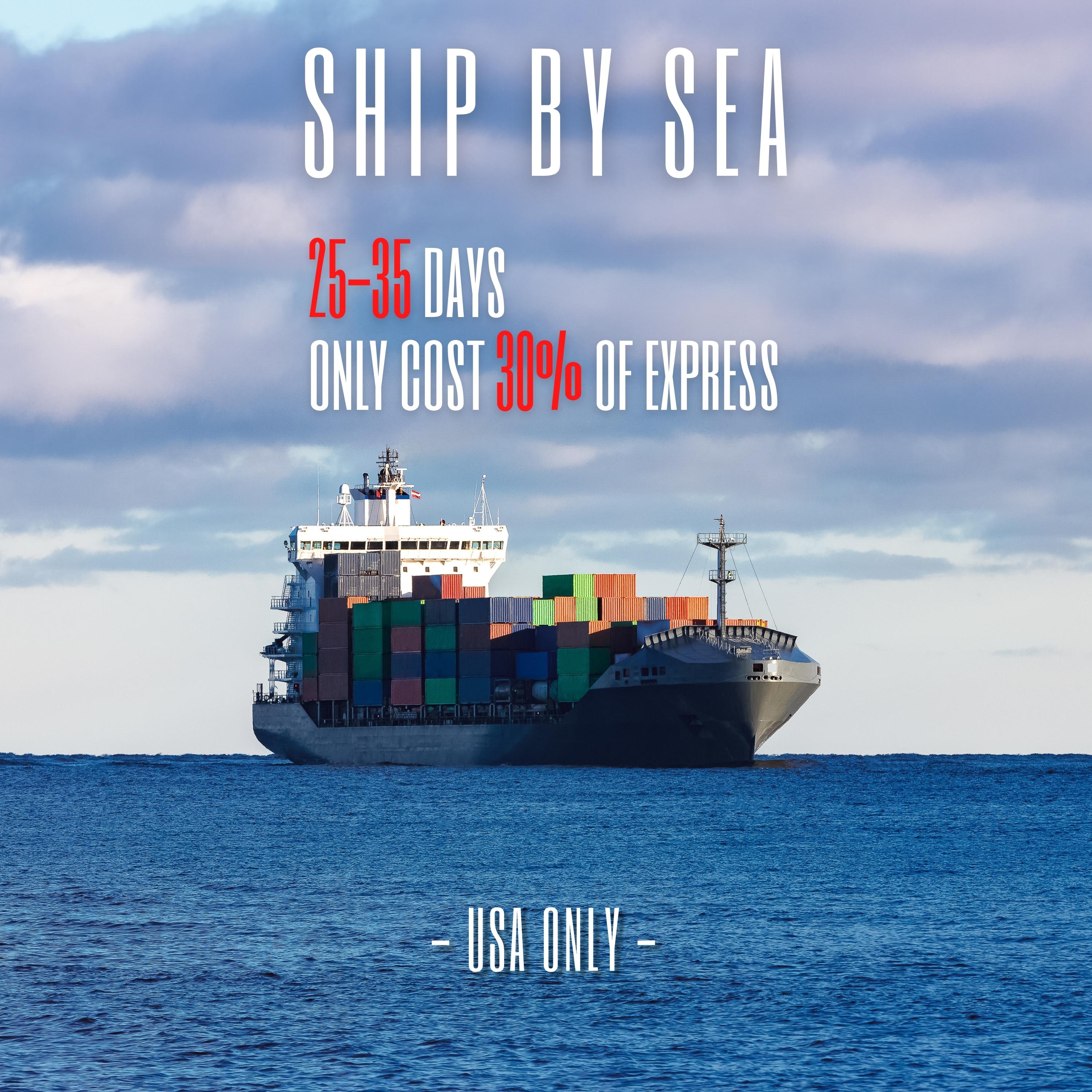 Due to COVID-19 and the war, international fuel costs have been high and international shipping costs have risen, so in order to help our customers save money,we listen to our customers' suggestions and try to find cheaper,safer shipping methods from multiple channels.We have also found three suitable new transport methods.
Now there are three new shipping methods online, customers can choose according to their needs.
A.25 - 35 Days Matson Shipping(Tax Included)
Available Countries: Only for US
Lifting Weight:21KG and above.
Once the package arrives locally, it will be delivered by the local UPS or FedEx.
B.8-13 Days Air Express(Tax Included)
Available Countries:Germany, France, Italy, Spain, Netherlands, Czech Republic, Poland, Luxembourg, Denmark, Austria, Estonia, Slovakia, Slovenia, Hungary, Finland, Greece, Sweden, Lithuania, Portugal, Bulgaria, Latvia, Ireland.
Lifting Weight:35KG and above.
Once the package arrives locally, it will be delivered by the local UPS.
C.38-50 Days Rail Transport(Tax Included)
Available countries:Germany, France, Spain, Italy, Poland, Czech Republic, Netherlands, Austria, Belgium, Denmark, Luxembourg, Finland, Slovakia, Slovenia, Estonia, Lithuania, Hungary, Greece.
Lifting Weight:90KG and above.
Once the package arrives locally, it will be delivered by the local UPS/DPD/GLS.
When the package arrives at the warehouse of the shipping company, our system will automatically send the tracking number to our customers, and customers can track their packages from the following official websites:
https://www.fedex.com/en-us/home.html
https://www.ups.com/track?loc=en_CA&requester=ST/
Special Notes:
1.The above shipping methods have included the required information and fees(not including remote charges)for import and export of packages, and customers do not need to cooperate with customs clearance or pay the related duties themselves.
2.Due to the long time limit of the above shipping methods, the recipient may not be able to track the corresponding logistics information before arriving at the country of the recipient's address, but when the parcel arrives locally, the local will scan the parcel and update the corresponding logistics status. In this regard, customers need more patience to wait.
3.For remote charges, since our system does not automatically identify remote areas, the transport company will divide the area by postal code,if the address on your order is in a remote area, they will charge you an additional fee - a remote fee that you will have to pay. We will contact you in advance and inform you of the charges.
4.For damaged package, if unfortunately you receive a damaged package, please immediately take pictures and record video of the damaged package, and contact the courier feedback on this situation in the first time, but also please count the number of goods is correct, please also promptly contact our customer service staff to provide photos and videos of the damaged package and the received goods, we will provide you with further assistance and assist you in filing a complaint with the courier company file a complaint for compensation.
5.For missing package,if unfortunately the package lost,the tracking info showed the package was "Delivered",but you have not received it, we suggest you could check your porch of the door or ask your family or neighborhood who pick up first.Sometimes the courier would put the package to your apartment leasing office as well .if still cant found it, you could contact your local courier to have a ask and feedback to us.we are willing to help you to contact the courier to open a case to investigate and claim for the courier.More information:https://www.girlmerry.com/blog/post/courier-delivery-service-impact-of-covid-19/.
Please feel free to contact our customer service if you have any questions or concerns.
Ann: +8615102000458 Anne@girlmerry.com
Jane: +8618102576210 info@girlmerry.com
Ellie: +8618028546210 service@girlmerry.com
Girlmerry hope our customers' business will be prosperous.