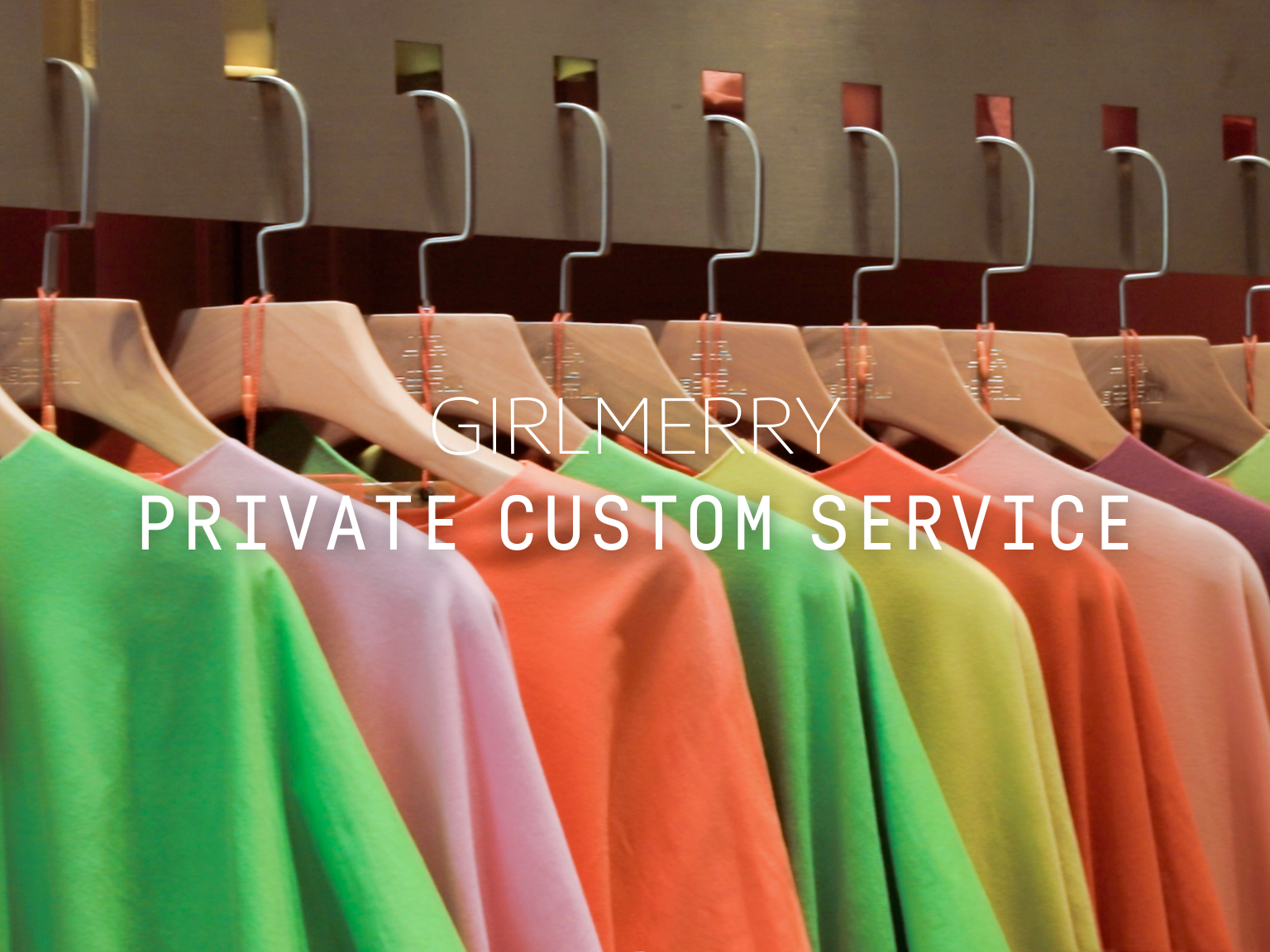 In order to provide diversified services and assist customers to enhance their brand recognition,uniqueness and patentability,GIRLMERRY now offer private style customization services.
If you have a favorite style that we don't have,or a style of your own design,just send us the pictures,then we could provide the customization service for you.
What products can I custom?
We currently offer customization services for clothing, swimwear,packaging materials,label and tag.
Note:we do not accept custom orders for styles with famous brands logo,pattern or letter.
What's the MOQ?
The MOQ for the customization is at least 100 pieces in a single color of each style,you can mix sizes.
The MOQ is not always same for each style,so please contact our customer service for more details.
Can I get a sample? Is the sample free?
We charge a sample fee of 50USD/piece,after we receive the picture and confirm the style's detail with you,we will need about 5-7 working days to make a sample before producing in bulk.
We will send you the photo and video of the sample to have a check first,if you want to get the sample,you would only need to pay the shipping fee,or if you have any order on our website,we could ship out the sample with your order for you.
After we receive your custom order,we will refund the samples fee.
How can I order my custom products?
We will check with you to make sure the sample is correct,and then we can calculate an accurate quote for you.
1.After getting your consent,we will put a link of your style on our website and let you place the order. Don't worry about other people ordering your private items,after you place the order,we will remove it from our website.
2.If you do not want your product appearing on our website,we will send the bill details offline to you for verification and payment.
3.After we receive your full payment for the custom products,we'll start scheduling production.
How long is the production period?
Once we receive your custom order,usually it will take 5-10 working days for the factory to mass produce your custom product.
Note: The production time will vary depending on the quantity and the style of the custom orders,the specific time is subject to the time that you confirm with our customer service before placing your order.
Can I get a discount of my custom order?
Custom order still can enjoy our wholesale discount,when your order reaches the following amount,you will get the corresponding discount:1000usd 5%OFF,3000usd 8%OFF,5000usd 10%OFF
Can I cancel or change the design of my custom product?
We will make samples according to your requirements,modifications and adjustments can be made before starting mass production.
Once mass production begins,it will not be possible to modify the style again.
Due to the special nature of custom product, we are unable to cancel as well as refund after the factory starts production,therefore we advise our customers to check the sample carefully before production.
We are sorry for the inconvenience and appreciate your understanding.
If I am not satisfied with my custom product, can I return it?
Before production we will check with you carefully the product process,fabric and other requirements. We have a wealth of production experience,and all products will go through quality inspection one by one before shipping out,we are confident that we can produce satisfactory products for you.
Customized products are non-refundable if there is no quality problem,but if you are dissatisfied with any product, please do not hesitate to contact us,we will definitely provide you with a satisfactory solution.
Girlmerry is always committed to providing high quality products and excellent service to our customers.
Finally if you have any customization needs,please contact us freely,we will do our best to assist you.
Ann: +8615102000458 Anne@girlmerry.com
Jane: +8618102576210 info@girlmerry.com
Ellie: +8618028546210 service@girlmerry.com